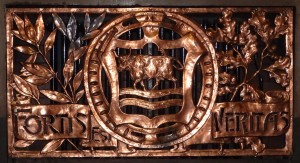 Ten weekly classes, every Wednesday morning, 10:30-12:30pm, 26th January – 30th March 2022
Venue: The Old Fire Station, 40 George Street, Oxford OX1 2AQ. The venue is in the city centre, 5 minutes' walk from the train station and 2 minutes' walk from Gloucester Green bus station. There is full disabled access, and a cafe on site.
Course summary: In 1850 Oxford was a fairly small, inward-looking city, still largely contained within its medieval boundaries; by the eve of the First World War it had quadrupled in size and was poised to become one of the major manufacturing centres in southern England. We will examine the social, cultural and economic changes that Oxford underwent in this 65-year period, taking it from a city still dependent on its university for fame and fortune to one ready, finally, to participate in the industrial revolution. How did the coming of the railway, university reforms, religious upheaval, a rise in real wages and increasing concern for public health and sanitation affect the provision of education, leisure and public services, employment opportunities and the rapid development of Oxford's suburbs? And how did what was happening in Oxford compare with what was happening nationwide? The history of the city itself is still often neglected, even by its own citizens, and our main focus will be on the "town", rather than the "gown".
Course objectives:
To study developments in housing, education, public services, transport, local government, industry, commerce, leisure and religion in Oxford during the period 1850 to 1914.
To examine how developments in Oxford related to changes in English society generally during this period.
To identify, evaluate, interpret and compare appropriate primary sources for Oxford for the period.
To help students who wish to, to identify and begin research projects of their own.
Teaching and learning methods: Short lectures and illustrated presentations from the tutor Liz Woolley, reading and interpretation of documents in pairs or small groups, and class discussion. One of the ten sessions will be a guided walk around Oxford, looking at relevant buildings and at the topography of the city. Teaching materials will include copies of texts, maps and images. Students will be encouraged to read one or two recommended introductory books before the start of the course, and each week to read hand-outs for discussion in class the following week. They will also be encouraged to follow up their own particular interests by reading more widely, visiting relevant exhibitions and carrying out their own explorations of the city. No special expertise or knowledge will be expected, just a willingness to join in class activities. There will not be any formal homework and no assignments will be set.
Cost: £195 per student
Contact me on 01865 242760 or liz@lizwoolley.co.uk for further information or if you would like to book a place on this course.
This course ran annually at the Oxford University Department for Continuing Education (OUDCE) from 2011 to 2019 but I am now running it independently.
"A very informative course which exceeded my expectations and has given me a good understanding of this period in Oxford's history. Your passion for the subject was clear and your knowledge seemed encyclopaedic! Your handouts were very comprehensive and included lots of potential sources of information." Julian Lawton Smith, March 2016.
"A really interesting course which I thoroughly enjoyed; I hope to continue my interest in local history". Trevor Watkins, March 2016.
"This is the fourth OUDCE course I've done, and it was the best!"  Brian Lowe, Oxford Blue Badge Guide, March 2012.
"Thank you for an excellent series of lectures, well prepared and delivered, and fascinating."  Mike Buckner, March 2011.
"This is the ninth course I've done with OUDCE and I'm so impressed by the content you've prepared and by your thoroughly hands-on lecturing approach. Great stuff!"  Barbara Thomas, March 2011.
"Thanks again for such an interesting and varied course, very much appreciated by everyone."  Holly Kilpatrick, April 2011.