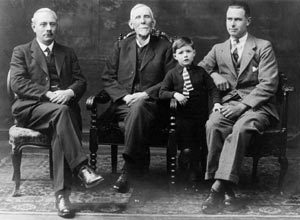 Kingerlee: the family and the building firm since 1868

Thomas Henry Kingerlee took over his father's building firm in 1868 and when he moved from Banbury to Oxford in 1883 the city was expanding rapidly and undergoing enormous social, political and economic upheaval. Kingerlee was soon to become one of the key figures in those changes, rapidly becoming Oxford's largest builder and landlord, and one of its biggest employers, with several hundred workers at any one time. Thomas Henry was a leading Non-Conformist, a Liberal Councillor, and twice Mayor of Oxford. This talk will examine how the family and the firm influenced Oxford's development in the Victorian and Edwardian periods and highlight some of the hundreds of private and public buildings which Kingerlee have built, renovated and repaired in the city and elsewhere. The company is still going strong and is now run by Thomas Henry's great great grandson, David Kingerlee.
"A splendid lecture – brilliantly researched and beautifully delivered."  Barrie Trinder, Banbury Historical Society, October 2020.
"It was really interesting to reflect on how one company, and indeed, one man, not generally recognised (but soon to be more so with the unveiling of a Blue Plaque) made such a huge mark on Oxford's built environment. Thank you again for another of your great talks."   Peter Thompson, Oxford Civic Society, October 2019.
Contact me on 01865 242760 or liz@lizwoolley.co.uk to book this talk.