I'm currently:.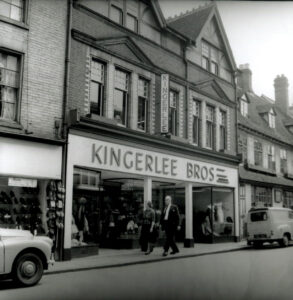 Writing an article about the Kingerlee family in Banbury for the Banbury Historical Society's journal Cake & Cockhorse.
(Image of the Kingerlee Bros shop in Parson's Street, Banbury, courtesy of Four Shires magazine.)
Analysing the information held in the City of Oxford Boys' High School WWI Roll of Service and contemporary documents from the school's archives. Pupils at Oxford Spires Academy (the descendant of the Boys' High School) used the information to prepare for a commemoration of the centenary of the end of the First World War in November 2018.  Dr Adrian Gregory of the University of Oxford History Faculty and I are writing an academic paper on what the Roll of Service can tell us about Oxford in this period and about the First World War.
Ongoing work includes giving talks and guided walks to Oxfordshire groups; researching and writing house histories; teaching for the Oxford University Department for Continuing Education; maintaining the South Oxford Local History website; volunteering in Oxford City Council's Town Hall archives, cataloging post-1935 building plans; being secretary of the Listed Buildings Sub-committee of the Oxfordshire Architectural and Historical Society (OAHS); and being treasurer, membership secretary, website manager and e-bulletin editor for the Oxfordshire Local History Association (OLHA). I'm also a member of the Oxford Preservation Trust's buildings awards panel which considers submissions during June and July every year.
Click here to hear me talking about being Miss August in the 2021 Dull Men's Club calendar, on the Kat Orman Show, BBC Radio Oxford, January 2021 (courtesy of Kat Orman and BBC Radio Oxford).
Click here to read my First Person piece in The Oxford Times and Oxford Mail, about manhole covers in Oxford, August 2020.
Click here to hear me on Radio 4's Classified Britain programme with James Naughtie, August 2019. This broadcast was repeated at 1:45pm on Thursday 19 December 2019.

Click here to see me talking about one of my favourite historic buildings in Oxford, October 2013.
Previous projects have included:
Researching, writing and producing an information board about the history of the St Ebbe's area of Oxford, erected near the corner of Blackfriar's Road and Preacher's Lane in November 2020. Read the Oxford Mail report here.
Narrating Historic Oxford under Lockdown, a short film made in May 2020 by the Oxford Civic Society. Watch the film here.
Helping journalism student Adam Landau with part of his final-year project, a short documentary film Brunel and the Original High Speed Railway. View the film (which earned Adam a mark of 95%) here.
Researching the history of the Lloyds Bank building at Carfax, Oxford, for Brasenose College. The 2019 report can be read here.
Co-ordinating celebrations for the 175th anniversary of the opening of the Didcot to Oxford branch of the Great Western Railway. On 15 June 2019 there were events at or near all five stations along the line – Didcot, Appleford, Culham, Radley and Oxford. Further information here.
Working with the University of Oxford's Globalising and Localising the Great War network to produce a free public exhibition Oxford, the War and the World 1914 – 19 which opened at Somerville College in November 2018 and was on tour until July 2019. Further information here. A one-day workshop on Oxford's  role in WWI was held at Somerville on 22 June 2019.
Helping the Oxford Civic Society (OCS) to celebrate its 50th anniversary in 2019 by researching how Oxford has changed since 1968 (with particular focus on OCS's areas of interest: planning, buildings, environment, travel/transport, and community issues) and how OCS has contributed to and influenced those changes. Read the report Changing Oxford: Fifty years of Oxford Civic Society 1969 – 2019 here.
Managing the 2018 city tour of my exhibition about Olive Gibbs, Oxford Labour politician and peace campaigner. The exhibition was shown at ten public venues between April and December. There's further information about Olive and about the exhibition here.
Researching and writing a book about the history of the family-run building firm Kingerlee, which celebrated its 150th anniversary in 2018. Click here to hear me and Managing Director Michael Puttick talking about the history of the firm on Radio Oxford [recording made 15 January 2018, reproduced courtesy of the Lilley Mitchell Show, BBC Radio Oxford]. View the book  here.
Helping to co-ordinate activities and events aross Oxford to celebrate the centenary of the Representation of the People Act, February 2018. This included an event at Oxford Town Hall on 6 February to celebrate the centenary of the birth of Olive Gibbs. Watch a video of the event here.
66 Men of Grandpont 1914-18, an award-winning community history project which ran from 2015 to 2017. Click here for a short video describing the project, made by That's Oxford TV, and click here to listen to me and Anne Kiltie discussing the project on Radio Oxford's Kat Orman show [recording made 26 February 2016, reproduced courtesy of the Kat Orman Show, BBC Radio Oxford].
Writing and ongoing maintenance of the South Oxford History website. In January 2018 the website won a commendation from the Royal Historical Society as part of the society's 2018 Public History Prize. This national prize recognises work which promotes public understanding of history and communicates a critical understanding of the past.
Producing a history information board at Hinksey Outdoor Swimming Pool, south Oxford, erected in 2017. Click here to see me talking about the project in a short video made by Oxford City Council.
Researching and co-authoring the book No Other Way: Oxfordshire and the Spanish Civil War 1936-39, published in 2015.
New history information boards in Hinksey Park, south Oxford, erected in 2014.